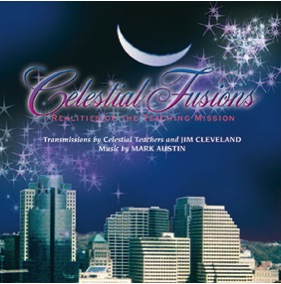 Artwork & Graphic Design by Gwen Cleveland, David L. Hubbard

STILLNESS, an audio outlining the 7 Steps of Stillness practiced by Michael Painter. From relaxation of mind and body to spiritual embrace and contact with celestial teachers. It was recoreded by the Stillness Foundation and shared extensively over the years.
MUSIC IN THE OZARKS Teaching Mission students gathered in Fayetteville, Arkansas, in 1995 and made a lot of music together. Fred Harris, whose Tallahassee, Florida, TM group, produced the program and built an audio take of the musical performances.
Network of the Heart Teaching Mission Conference 1995 include the following vocalists and tracks:
1) Lily Fraser — How Can I Keep From Singing?
2) Tom Maringer — Celestial Garbage Man
3) Barbara Hester — Father, You Are the Way
4) Mark Austin — Be Still
5) Peggy Maringer — Closer My God To Thee
6) Rick Giles — Gray Day
7) Lily Fraser — Will Ye Gang Love?
8) Michael Palmer — Almost Independence Day
9) John Creger — The Ballad of James Coleman
The DEEP DIVE Research Box
Are you interested in historic videos?
In constructing this site, we planned to include some digitized Videos of conferences, retreats and examples of the T/R (Transmitting-Receiving) process. These files take much space, however, and would slow down movement on the site. We believe there is limited interest in these presentations and the picture and sound quality is often poor. But they do connect the dots of research, seeing real people enjoying Teaching Mission camaraderie together.
Via Dropbox, we can transfer these videos to you. You must have an account. Then you will be an additional custodian of these historic materials. Send me an e-mail request from our Contact page.
ABRAHAM TR-NEW ZEALAND, The biblical patriarch introduced the Teaching Mission via transmissions in New Zealand in the early 90's. Here is an audio recording of an early session.
Video Available on Request
Light and Life Video and Audio Files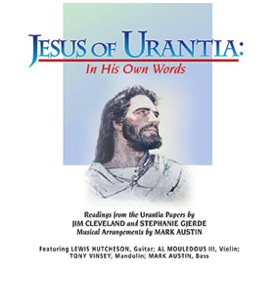 JESUS OF URANTIA - In His Own Words Readings from the Jesus papers of the Urantia Book by Jim Cleveland and Stephanie Gjerde, Interwoven musical tracks with bass, mandolin, and violin by Mark Austin and friends.
The Urantia Papers comprise some 2,100 pages of epochal revelation that synthesizes science, philosophy and religion on our planet of Urantia. It elaborately describes the nature of God, the universe of universes and our roles as ascending mortals of time and space in a grand design of education and ascension.
This CD is inspired by the service of the Urantia-based Jesusonian Foundation at www.truthbook.org in bringing the real and true gospel of Jesus to our world.
Jesus of Urantia - In His Own Words and tracks:
1) The Jesus Joy Suite (2:52)
2) The Urantia Book (:52)
3) Who Was Jesus? (1:30)
4) The Kingdom of God at Hand (6:35)
5) How is One Saved? (4:21)
6) Should We Fear God? (9:12)
7) Attitudes in Jesus' Day (3:23)
8) The Purpose of Affliction (3:42)
9) The Value and Fallibility of Scripture (9:15)
10) Ordaining the Apostles (11:00)
11) The Attitude for the Father's Business (4:08)
12) Giving the Spirit of Truth (6:00)
13) An Appearance after Resurrection (5:21)
14) The Religion of Jesus (9:08)
15) The Sea Minor Suite (1:16)
CELESTIAL FUSIONS - Lessons from the planetary Correcting Time. Celestial teachers explain the current Correcting Times in our world societies, and offers a roadmap for spiritual insights, sustenance and empowerment through the practice of Stillness.
CELESTIAL FUSIONS - Lessons from the planetary Correcting Time tracks:
1) Mandolin Fusion (5:59)
2) Tarkas: Truth must live and grow (5:36)
3) Bakim: Truth nugget and source (10:35)
4) Elisha: Struggle in love, not fear (3:06)
5) Nero: The Few and the Mighty (12:49)
6) Bakim: Being an Artist (6:32)
7) Fusion Meld One (2:36)
8) Andrew: Mirth in the Mission (2:03)
9) Tarkas: Apocalyptic Insights and Ironies (8:45)
10) Mantoube: A Melchizedek Commitment (4:46)
11) Tarkas: Planetary Renaissance (3:25)
12) Christ Michael: Vanguards for a new Jesus (3:39)
13) Abraham: Love in Planetary Correction (3:36)
14) Fusion Meld Two (2:22)
Video files include:
ANGEL NIGHT. TM members presented two community programs in Spokane, WA, and one in Coeur d'Alene, ID, in the early 90's.  Speakers discussed the phenomenon in which they were participating, encouraged personal Stillness time for worship, prayer and up reach connection, and transmitted several celestial teachers. These participants have published thousands of pages of transcripts in our archives with an array of celestial teachers.
ANGEL NIGHT presentation for this video, by Simeon, a long time transmitter and facilitator in the Teaching Mission. This is how he introduced audiences to the TM phenomenon in 1996.
URANTIA BOOK Fellowship's 1999 international gathering in Vancouver included a panel discussion about the new Transmitting-Receiving phenomenon. This is unedited, raw footage with mediocre light and sound, but it has value as an historic document showing the real human participants and hearing their ideas and insights.
AFTER HOURS T/R at the Vancouver conference. Transmitting in alpha state are Steffani Murray, a Florida health care professional; the late Bill Kelly, retired minister who transmitted in Pocatello, ID, and Jim Cleveland, an author and publisher on his own since his retirement in journalism, marketing and communications.
KEYNOTE ADDRESS by pioneering transmitter "Rebecca" at a Teaching Mission Network gathering in Colorado. She discusses early connections with the teachers in Salt Lake City from contacts in New Zealand, and shares the worries, anxieties and ultimate joy of being connected with spiritual teachers. Video includes other presenters as well.
NASHVILLE '95 TM conference. Two digitized tapes feature a plethora of programs. Susan Kimsey presents a personal growth workshop combining her insights with her full body transmitting of Olfana and other celestial teachers. Recorded TR sessions on stage from teachers Nero, Ham, Anatolia and others. A presentation by famous songwriter Hal Bynum and musical performances by Dan Tyler, John Creger, Mark Austin and others.
10) Hal Bynum — If I Could Do Nothing I Wanted To
11) Hal Bynum — There'll Be Love
12) Lily Fraser — There Is Love
13) Tom Maringer — Truth Is Where You Find It
14) Barbars Hester — Follow Your Heart
15) Mark Austin — Do You Hear Me?
16) John Creger — Psalm 81
17) Peggy Maringer — Celestial Garbage Man
18) Tom Maringer — The Time Between
19) Michael Palmer — Knockin' On Heaven's Door
20) The TeaM Band — Amazing Grace
21) Lily Fraser — Giver of Life
These papers are published by both the Urantia Foundation and the Urantia Fellowship and the original text is downloadable at www.lightandlife.com.
Having studied these papers for many years, Mark and I are particularly inspired by part iv, which re-states the incarnation of Jesus on our planet and presents an enlightened and expanded Jesusonian message that reflects the Universal Father's Be Ye Perfect plan.
Here, I've attempted to provide a bare overview of the Jesus mission and some of his key messages relating to mankind's most frequent spiritual questions. All passages are direct quotes from Jesus in the Urantia Papers. I am joined by the beautiful narrations of Stephanie Gjerde of Austin, TX.
To my efforts, Mark has composed and added two joyful suites of instrumental music with an all-star combo of Dallas musicians on guitar, violin, mandolin and congas.
We hope you'll enjoy and be inspired by the incredible life of Jesus and his cosmic wisdom, and will be encouraged to read The Urantia Book, to visit us at www.lightandlife.com, and enjoy your own "Exploration of the Spiritual Universe."
There is a critical question in the minds of humans today as to whether we can converse with celestial personalities, and whether they bring spiritual insights that will assist us in our growth. Individuals have to answer this question and many more in life for themselves. I have been involved with Teaching Mission since 1991 and hear are a few of the transmissions that I have personally given at group meetings in the Cincinnati area and at national TeaM gatherings. They are a small part o f the tens of thousands of pages now representing the work of a wave of celestial teachers. — Jim Cleveland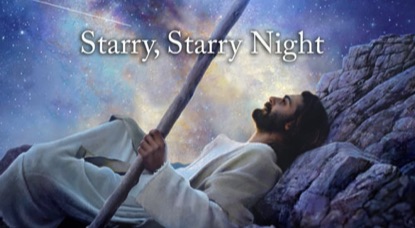 The Urantia Book - For Jesus - Starry Night by Gary Tonge
An adaptation of Don McLean's "Vincent" dedicated to Jesus and the recent publication of his untold story.
Click on the graphic to the left to listen and watch this beautiful adaptation. Enjoy!
Five Spiritual Friends and their Music Legacy
Over years of attending Urantia Book and Teaching Mission conferences, I've heard some very gifted singers and songwriters. Some of them have passed on, leaving a legacy of great songs and performances. This album is a tribute intended as a Legacy.
Lily Fraser honed her vocal skills as a performer and beer wench at Renaissance Fairs. Her strong voice never misses a note and she embellishes with guitar and harp. We've collected seven tracks though she never had a record label. She was kind, compassionate, yet a fearless stand-up champion for justice. She cared courageously for her fallen companion while ill herself. There is a special place in Heaven...
Hal Bynum was a larger than life icon in Nashville music, author of hit songs and a bonafide booze-fueled "hell-raiser." Then he met "Rebecca" in Utah, a gifted transmitter and icon in the Urantia-based Teaching Mission. They married and he began recording passionate, poetic down-home stories, such as these three.
Charley Packard devoted his young years to playing with famous rock bands. He then settled into the mountains of his native Idaho to play music with his friends and marry over a thousand of them. He became a community treasure, a good and caring man with a great gift that he always shared. There was a city-wide memorial when he passed. Here are four classics.
Cinde Borup joined Beth Pederson to perform for 28 years as Beth & Cinde/Wild Roses. Together with other talented Idaho performers, they produced several well-crafted CD's. Her soaring voice blends with beautiful arrangements in the four classics we feature. Cinde passed and Beth continues performing, with a new project slated for the months ahead.
Rick Giles had a theology degree and was a cabinet-maker. He was also a prolific Teaching Mission transmitter in a community of Idaho friends. He passed suddenly from a brain aneurysm a few years ago. Kathy Giles and other friends carry on as a steadfast Teaching Mission group. We discovered an upbeat track that captures a bit of their spiritual zeal.
I've included a couple of my lyrical poems that explore our eternal search for beauty and goodness. "Up To Green" seeks a wondrous mountain spirit.
These artists exemplify both beauty and goodness. These artists felt the spirit and shared it. They were idealists who proclaimed values and performers who achieved excellence.
1. Up To Green — Jim Cleveland
2. Friends Like You — Charley Packard
3. When I Meet You Here — Wild Roses
4. Love's The Place — Rick Giles
5. Will Ye Gang Love? — Lily Fraser
6. Feel Freedom — Charley Packard
7. Time For A Healing — Lily Fraser
8. There Is Love — Lily Fraser
9. All Is Well — Wild Roses
10. A Parable About Mirrors — Hal Bynum
11. Troublesome Waters — Lily Fraser
12. There Is A Place — Wild Roses
13. If I Could Do Anything I Wanted To — Hal Bynum
14. How Can I Keep From Singing? — Lily Fraser
15. Feel The Sun — Charley Packard
16. There'll Be Love — Hal Bynum
17. If I'm Needed There — Charley Packard
18. We Can Be — Lily Fraser
19. Bumpy Road — Charley Packard
20. Giver of Life — Lily Fraser
21. Don't Wait — Wild Roses