Announcing my newest book . . . 
THE WOMEN WHO LOVED JESUS
The Untold Story of the Women's Evangelistic Corps 
Jesus' opened many hearts to the nature of divine love. His life-changing teachings and healings revealed the Creator's compassion, understanding, and forgiveness which inspired human nature to become more loving and service-motivated. His public ministry is brought to new light through the tales of the twelve women he commissioned to serve as his Apostles. Each woman offers her individual story of how Jesus opened her heart through his radiant personality to catalyze her true human worth and dignity. Together under Jesus' direction, they formed an environment for healing in many ways for those who came to hear his Gospel message.
They ministered to many through the soulful communication Jesus personified, receiving and replicating his healing to many. Their stories also shed light on Jesus' instruction to them about the reality of Holy Mother Spirit as the feminine counterpart of Father Michael (Jesus). Among their inspirational accounts is the revelation that these women truly laid the spiritual and social foundation for the later Christian religion. Their messages to us are as relevant today as then. Women all over the world are finally taking their rightful place as ministers, healers, and religious teachers. Their universal message underscores the catalyzing power of divine love Jesus offers us as a needed spiritual remedy for our present-day.
Available here as an eBook:
  https://www.institutechristconsciousness.org/books--recordings.html
Price:  $7.00
Artwork & Graphic Design by Gwen Cleveland, David L. Hubbard

Light and Life Friends & Sources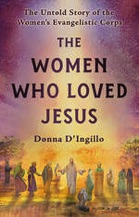 These are the stories of twelve remarkable women who had their inner lives touched by Jesus. How refreshing that each woman of the Evangelistic Corps recounts her life-altering spiritual transformation, the sharing of her inner life with God. among themselves. — Richard R., Sebastian, FL
What an inspiring book!  This is richly and deeply comforting showing us the importance of women in healing and moving our culture forward.  Their personalities came through as a rich tapestry of unique colors speaking as powerful voices in history. — S. D., Therapist
I was thoroughly enthralled to read their personal accounts. Deep thanks and blessings to these twelve women who so boldly defied all social and religious conventions of their time to follow their hearts and embark on something much needed in this world. — Bonnie K., Oak Grove, MN  
Since I was a child, I loved stories about Jesus. This book did not disappoint. If you love Jesus, this is a must read! — Anastasia K., Newburyport, MA
This impactful story from the twelve women Apostles of Jesus, who significantly and mightily helped lay the foundation for Jesus' earthly ministry will have a resounding outreach to future generations. — Dave S., Placentia, CA