Announcing my newest book . . . 
THE WOMEN WHO LOVED JESUS
The Untold Story of the Women's Evangelistic Corps 
Jesus' opened many hearts to the nature of divine love. His life-changing teachings and healings revealed the Creator's compassion, understanding, and forgiveness which inspired human nature to become more loving and service-motivated. His public ministry is brought to new light through the tales of the twelve women he commissioned to serve as his Apostles. Each woman offers her individual story of how Jesus opened her heart through his radiant personality to catalyze her true human worth and dignity. Together under Jesus' direction, they formed an environment for healing in many ways for those who came to hear his Gospel message.
They ministered to many through the soulful communication Jesus personified, receiving and replicating his healing to many. Their stories also shed light on Jesus' instruction to them about the reality of Holy Mother Spirit as the feminine counterpart of Father Michael (Jesus). Among their inspirational accounts is the revelation that these women truly laid the spiritual and social foundation for the later Christian religion. Their messages to us are as relevant today as then. Women all over the world are finally taking their rightful place as ministers, healers, and religious teachers. Their universal message underscores the catalyzing power of divine love Jesus offers us as a needed spiritual remedy for our present-day.
Dearest friends, I'm delighted to announce that my new book is now in worldwide distribution. Please support this effort by purchasing the paperback or eBook version, and perhaps get a second copy as an inspirational gift. Aside from first-person narratives by each woman, this book includes full-page portraits of each one by renowned Urantia artist Gary Tonge. As you know, these women include Mary Magdalene, Susanna, Joanna, Ruth, Rebecca, Rachel, Nasanta, Milcha, and Martha.
Artwork & Graphic Design by Gwen Cleveland, David L. Hubbard

Light and Life Friends & Sources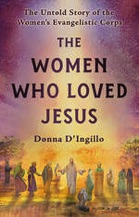 "As a female physician practicing for 25 years I have often felt I had to hide and subdue my Christian heart or I would be ostracized by my peers. This fear of persecution as well as a subtle inner hesitation often felt irrational, but it was my most authentic truth that I could not bend. In reading Donna's book, I feel a liberation of this fear going back over 2,000 years through the endorsement of Jesus to the women apostles as members of a Woman's Evangelistic Corp. In hearing their sweet stories, as if they were talking to you not through words of academic theological study, rather as a dear soul sister in intimate words of deep sharing, the ropes, chains and shackles around my throat chakra were released at many levels. The result is an unleashing of a thirst to reconnect with Christ, his message, the powers of the Spiritual Truth and the camaraderie of a group of women blessed to do the same." 
—Dr. Jacqueline Chan, author of Regenerate Your Brain
"We only knew half the story until this book appeared. Now I feel complete, seeing Jesus for the first time through the hearts of his women apostles. Each of their stories is unique but in one way they are the same—they deeply loved Jesus, and this love produced profound transformations in their lives." 
—Deborah G. (Bakersfield, CA)
"If you love Jesus, this is a must read. It greatly warms the heart, and it's a lovely read no matter your religious background or beliefs. This is an uncommon and noteworthy book that I would easily read more than once! Kudos to Donna for such a gift! 
—Anastasia K. (Newburyport, MA)
"These impactful transmissions from the women apostles, who mightily helped lay the foundation for Jesus' earthly ministry, will have a resounding outreach, not only during the era in which this book is published, but also to future generations. Learning about their ministry especially as  enhanced through the bestowal of the Spirit of Trust at Pentecost, and their subsequent laying the foundation of the early church, will inspire and catalyze others in their unique callings and abilities."
—Dave S., (Placentia, CA)
"As a therapist I found this book to be richly and deeply comforting to all women who feel pushed into the background due to male domination over the millennia. The twelve women's personalities come through as a rich tapestry of unique colors speaking to us as powerful voices from our history. I cannot recommend it enough!"
—S. D.
"How refreshing that each woman recounts her life-altering spiritual transformation and shares her inner life with God. And how delightful that their sharing extended to an intimacy with one another that surpasses what men can accomplish among themselves."
—Richard R., PhD (Sebastian, FL)
"I was enthralled to read these personal accounts. I could feel my own desire for a deeper relationship with Jesus, which has strengthened my commitment to my own sacred healing work.  Thank you, Donna, for bringing this gift to light for all humanity. And deep thanks and blessings to these twelve women who so boldly defied all social and religious conventions of their time to follow their hearts and embark on something much needed in this world."
—Bonnie K. (Oak Grove, MN) 
"Here we find a remarkable examination of the twelve women apostles. These are personal stories that speak to the truth, beauty, and goodness that Jesus was and still is today."
—James L. (Fort Myers, FL)
"A unique first-hand understanding of who Jesus was and how he positively influenced others. These twelve very personal short stories shed light on a special moment in early Christianity."
—Randy S.
"The reader cannot help but feel deeply moved. This work brings about a newfound understanding of the historical role and value of women in religion and the distinctive energetic signature they contribute to human evolution."
—Tara M. (Nashville, TN)
"This book is a collection of touching first-person testimonials. Imagine talking to someone who had really experienced Jesus in person. That's what it feels like to read Donna's account of the twelve women. I know these stories will touch a very tender spot in your soul when you read them." 
--Anonymous
"Women with Jesus. Enlightening insight in this book. Read it."
--Steven M., PhD, LCSW, Spiritual Counselor 
PRAISE FOR THE BOOK
Find our what readers are saying about "The Women Who Loved Jesus"

Click the portrait above to view Gary Tonge's artist depictions of the women along with short excerpts.
Our world is ready for the untold stories of the twelve female apostles commissioned by Jesus. As you know, this crucial story that has been suppressed for twenty centuries byt it has now been revealed. The Bible mentions a few of these women, but it never refers to them as apostles. Only in 1955 was this fact briefly revealed in "The Urantia Book".
And now we are graced with far more detail about these female apostles, in their own words. The Women Who Loved Jesus provides the definitive story of the Women's Evangelistic Corps as told by the women themselves. Learn also why these women are essential in creating the social foundation for the later Christian church. In these eye-witness, first-person narrations provided by each of the dozen female apostles, each woman steps forward to tell her story of how jesus preached their spiritual equality with men, transformed their personal lives, and ordained them as a teachers and minsters of the gospel.
"THE MOST REVOLUTIONARY FEATURE OF JESUS' MISSION"
The Women Who Loved Jesus stuns readers by explaining how Jesus' attitude toward women was "the most astonishing and the most revolutionary feature of (his) mission on earth," leading him to break with Hebrew tradition by appointing a women corps. And now, many decades later, we've been gifted with an even more expanded account of jesus's work with his most devoted female followers.
JESUS AS SEEN THROUGH THE EYES OF HIS WOMEN FOLLOWERS — FINALLY!
For the first time we see jesus through the eyes of his most fervent women followers, and we also learn how their ministry — designed to be complemental to that of the male apostles — focused on creating a social network of healing and compassion. Read this book to discover how these women laid the spiritual, energetic, and social foundation for the later Christian church. Their messages to us are both universal and timely, as women all over the world are finally taking their rightful place as ministers, healers, and religious teachers.